Crèche & 3yr Old Kinder
Crèche
The crèche at Eagle Stadium offer families the flexibility of a single session structure which allows parents to drop off and pick up their children any time between 9:10am and 11:50am on weekdays.
Parent Information
Sessions
| | |
| --- | --- |
| Monday – Friday | 9:10am – 11:50am |
The crèche will be closed on all public holidays and for a period of approximately two weeks over the Christmas/New Year period.
Prices
The prices for each session are:
| | | |
| --- | --- | --- |
| | Per Session | Multi-visit Pass |
| Members | $6.60 per child | $99 (15 visits) |
| Non-Members | $10.60 | $99 (15 visits) |
Fees are to be paid at Reception prior to arriving for the session. Crèche staff will request your Membership Card (if using 15 visit passes) or receipt for their records.
Enrolments
An enrolment kit for each child needs to be completed 48 hours prior to leaving your child/ren in care. Forms are available from the centre.
Enrolment form
Please ensure you bring copies of:
Immunisation Forms
Birth Certificate
Immunisation Form
For further information please contact the centre on 8734 5677. Alternatively, you can email our crèche coordinator on creche@westernleisureservices.com.au.
3-YEAR-OLD KINDER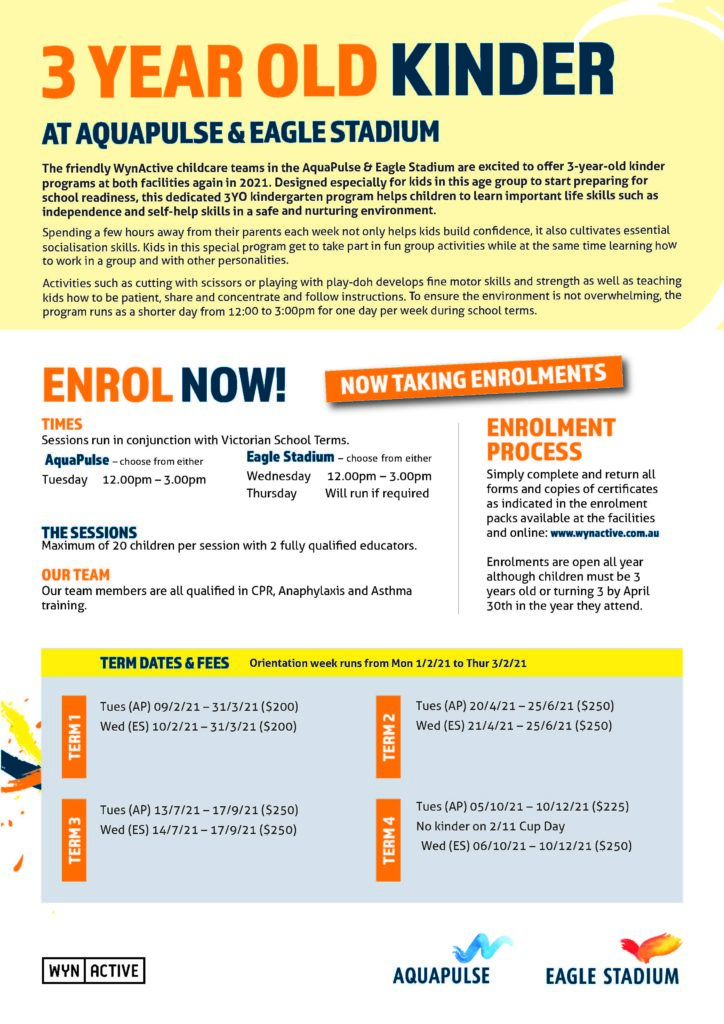 The friendly WynActive childcare teams in the AquaPulse & Eagle Stadium crèches are excited to offer 3-year-old Kinder programs at both facilities again in 2020. Designed especially for kids in this age group to start preparing for school readiness, this dedicated 3YO Kindergarten program helps children to learn important life skills such as independence and self-help skills in a safe and nurturing environment.
Spending a few hours away from their parents each week not only helps kids build confidence, it also cultivates essential socialisation skills. Kids in this special program get to take part in fun group activities while at the same time learning how to work in a group and with other personalities.
Activities such as cutting with scissors or playing with play-doh develops fine motor skills and strength as well as teaching kids how to be patient, share and concentrate and follow instructions. To ensure the environment is not overwhelming, the program runs as a shorter day from 12:30pm to 3:30pm for one day per week during school terms.
Eagle Stadium:
| | |
| --- | --- |
| Wednesday | 12:30pm – 3:30pm |
| Thursday | 12:30pm – 3:30pm |
Enquiries regarding the program at both facilities can be directed to our crèche team on creche@westernleisureservices.com.au.
You can call the centre for more information on 8734 5677